Conscious. How and from Where
Regional.fresh.healthy – Pleasure with a conscience in Schütterbad.
Well-being is very important throughout our hotel. And healthy cuisine is part of a good holiday. At Schütterbad you can enjoy something that will also do you good.
We create honest, fresh cuisine ... cooked with love: our products are regional.organic.seasonal – refined with herbs from our garden – and without artificial flavour enhancers.
Chef Christoph is keen to include local farms when choosing suppliers, ensuring environmentally friendly, short transport routes.
Locally selected products
Dairy products from Salzburger Land
Bread from Unkner Bakery
Trout from our own lake
Fish from Ennsmann Farm, Unken
Organic goat cheese from Reit Farm, Unken
Organic eggs from Perchthof, Unken
Organic potatos from Schafter Farm, St.Martin b.Lofer
Organic schnapps from the Niederberger Farms, Unken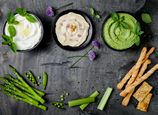 Opening times restaurant
Opening hours: 5.30 pm to 7.45 pm
Closed on Tuesdays
We are happy to organize your family celebration / company celebration by appointment also at noon.
In the afternoon we recommend our homemade cake and strudel specialties.