Packages
Landhotel Schütterbad is an ideal and homey "base camp" for active holiday guests during the winter months. Those who ski purely for pleasure as well as young families have a particular fondness for the nearby ski areas, especially because their attractive price-performance ratio offers guest-friendly arrangements. The warmer seasons in the Saalach Valley offer up a blend of walking, water and a sense of well-being. Both above and below, up in the mountains and down in the shady valleys and gorges, countless ways to enjoy nature's treasures await.
The hotel's proprietors offer their time with great knowledge and genuine hospitality – as much time as is needed to create happy experiences for their guests during their precious time here.
Water. Life.Offers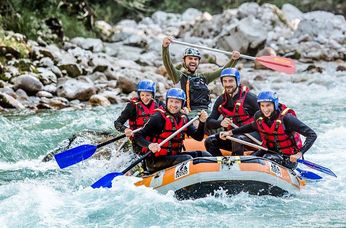 Water. Life
3 nights with half board
1 x rafting tour on the river Saalach
You will experience wild water while rafting on the river Saalach. Equipped with neoprene suit and shoes, helmet and life jacket, you conquer the roaring Saalach together with our outdoor guides.
€ 390,- p.P.
BASIC RATE
3 nights:
€ 390,-
Room categories depending upon availability!