Nature. Enjoyment
A panoramic view of Landhotel Schütterbad's magnificent surroundings has a stimulating effect. It makes you want to go climb, hike or cycle a few routes, to conquer a couple of mountain peaks or to plunge into watery fun in our region's clear rivers.
The Pfaffenbichler family carry the map of the area's many activities in their heads and – because they are attentive hosts – they'll generally recognise at once where your own personal favourites will lie.
Bild: © Achim Meurer
The mountains are calling! Discover on your hiking holidays the beautiful landscape and the variety of the area, like the Salzburger Saalachtal or the bordering nationalpark Berchtesgaden.
Hike as far as your feet can carry you, in the middle of a magic scenery of mountains.
Relaxed tour down in the valley between fields of flowers and meadows. Hike up the mountain and visit the alps. Enjoy a pause and fill up your energy in one of the old- fashioned cottages. Walk through narrow canyons sunrise tours reach the higher peaks of the area. (up to 2700 meters).
It doesn't matter if you are exploring the area on your own, joining a guided tour from the hotel, hiking with the kids or reaching the highest peaks, you will enjoy your stay in the middle of the mountains.
Happy days with breathtaking mountain views are waiting for you. Escape from daily routine and return back home relaxed with a big smile on your face.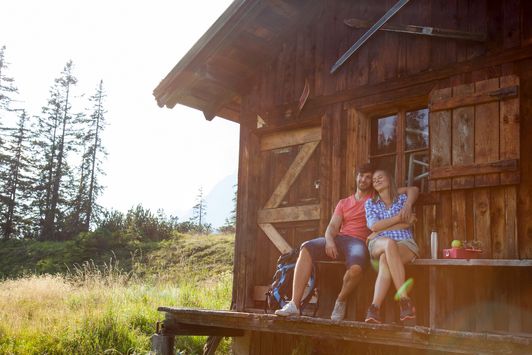 Hiking holiday in Unken means ...
"Experience happy hours in a dreamy mountain world, escape from everyday life and take joie de vivre, vitality and relaxation home with you".
Here you can experience leisurely valley hikes between meadows and fields, alpine hikes with a stop in one of the cozy huts, gorge hikes, sunrise hikes and summit conquests.
Image: © Bazzoka Creative