Water. Life
On the Saalach River, the transitions between relaxation, recreational fun and top-class sport are fluid. You can enjoy peace and solitude along the Saalach's rapids and in its romantic gorges, on its sunny riverbanks and by its picturesque waterfalls. Or you can plunge into watery adventures, letting yourself be carried along on the waves and actively follow the river on its way through magnificent landscapes.
The Pfaffenbichler family actively assist their guests with words and deeds. Your own personal daily programme is oriented toward what is good for you right now, what you feel like doing, and what you want to experience.
Outdoor - Wild water and mountains
The Salzburger Saalachtal offers a lot of outdoor activities.
In the hotel you have a partner concerning outdoor activities. We gladly advise you, if it concerns rafting, canyoning, canoe/kayak, climbing possibilities, …
Of course you can do activities yourself such as a climbing, bouldern, paragliding etc. Whether on your own or with professional assistance, like the whitewater program on the river "Saalach", tandem paragliding, canyoning or tubing, ...
Let's guide yourself from trained outdoor specialists!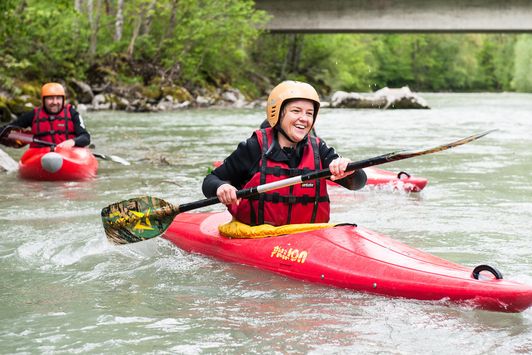 Kajak:
Kayak, the "king discipline" of whitewater sport. We guarantee you an absolutely secure and successful entry in kayak sport with our courses!

Canoe:
Canoe, form-causes really wobbly but very nimble. This combiniation makes a whitewater trip to an absolutely adventure!
photo credit: © vogei.at
Saalachtaler Summer-Card:
As our guest, you can enjoy the Saalachtaler Sommercard
Free entry to the forces of nature: Seisenbergklamm and Vorderkaserklamm
Free entry to Steinbergbad Lofer
Use of the Almbahn I and II in the Almenwelt Lofer
Free entry: Lamprechtsofen Cave
Free use of public transport in Pinzgau
Free use of the public. Bus to Bad Reichenhall and Salzburg
+ 25 bonus partners