Simply. Be
Hospitality and holiday fun have a long tradition at Landhotel Schütterbad. For generations, guests have fled the cities and their daily routines to savour the country life here. Romantic retreats neatly alternate with open spaces for various activities, and guests of all ages quickly discover their own favourite hangouts.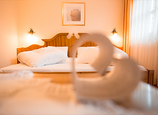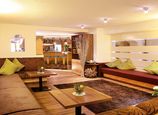 We would like to welcome you to the Landhotel Schütterbad with a cordial "GRIASS ENK"
Griass Enk is hard to translate. It means more than just 'hello'. The two words combine warmth, security and hospitality – always accompanied by a big smile. A smile which will accompany you throughout your holiday. A smile which quickly transforms guests into friends.
"Hospitality forms the soul of the hotel" You have chosen one of the most beautiful areas in the state of Salzburg for your holiday.
Surrounded by Salzburg's Saalachtal valley and the Berchtesgadener Land national park.